October 5, 2021: Merger and Right of Action
From which date can a #company take legal action on behalf of the company it has absorbed?
The answer is in this brief overview ⏩

September 28, 2021: Criminal liability of companies
Caution : A parent company can be convicted for offences committed by employees of its subsidiary without a delegation of authority.

September 14, 2021 : Partial contribution of assets under the simplified regime
➡️ Should a contribution made by a parent company to its wholly owned subsidiary be remunerated?

July 21, 2021 : For the 2nd consecutive year! ⭐
Thanks again to all our clients and team.
#LBO #Deciders #ranking #Lawyers #BusinessLaw

July 21, 2021 : Commercial leases (Clarifications on the application of the Pinel Law in time)
Law 2014-626 of June 18, 2014 (known as the "Pinel" Law) renovated the commercial lease regime and set out the rights and obligations of the parties to a commercial lease with respect to rental charges.
Several questions relating to the application of the Pinel Law over time remained unanswered…
July 7, 2021 : Equity loans
With the sanitary crisis, the legislator has brought the mechanism of equity loans back to the forefront.
🔎 What is an equity loan?
🔎 What are the main advantages?
We invite you to rediscover this mechanism instituted by the law n°78-741 of July 13, 1978.
June 28, 2021 : 📢 Welcome to Manon and Edouard !
We are very happy to continue to welcome interns as part of our partnership with EDHEC Business School and the Catholic University of Lille (LLM Law & Tax Management and Master 2 in Business Law Practice).

June 17, 2021 : Good news for businesses!
From now on, for your administrative procedures, say goodbye to the Kbis, make way for the SIREN number. 💡
June 10, 2021 : The future protection mandate
Running a business sometimes leads to having to consider the worst or the unpleasant in order to better prepare for the future. Today we introduce you to the mechanism of the future protection mandate, a contract that could help you by designating your replacement in case of unforeseen events.
June 8, 2021 : Beware of the transfer of non paid-up shares!
Subscribing to shares does not always mean paying the full price. You may own shares and still owe the company money. 💰
June 4, 2021 : Mission Companies – Part 2
– How do you choose to become a mission company?
– How do you become a mission company?
– What's next?
June 2, 2021 : (Creation of the PACTE law) Companies can choose to become mission companies and define their purpose.
Two case law updates on the consequences of a merger or partial asset contribution on the ability of recipient companies to pursue proceedings.
May 27, 2021
Two case law updates on the consequences of a merger or partial asset contribution on the ability of recipient companies to pursue proceedings.
May 25, 2021
As we saw last year with the Covid-19 ordinances, compliance with limitation periods is critical to preserving your rights. 🕐
May 21, 2021: The charm of old recipes… 👋
Today we take advantage of a 2021 case law news item to tell you about an old corporate law mechanism that can come in handy…
May 19, 2021: 🚩 (Covid-19) Axa was sentenced on appeal to insure operating losses
May 11, 2021 : Promising is not always selling or buying securities.
May 3, 2021: " Pacte Dutreil and usufruct reserve: Be careful when drafting the by-laws! "

On December 9, 2020 (Cass. 1re civ, Dec. 9, 2020, No. 19-14.016), the Court of Cassation recalls that in the event of a gift of securities that have been subject to a usufruct reserve for the benefit of the donor, the benefit of the 75% tax allowance on registration fees provided for in Article 787 B of the CGI, known as the Dutreil pact, is subject to the condition that the bylaws limit the voting rights of the usufructuary to decisions concerning the allocation of profits. Failure to comply with this obligation will result in the loss of the benefit of the expected tax advantage. Considering the stakes, it is essential to check the by-laws carefully and to provide for their modification if necessary.

January 14, 2021
An exceptional covid swearing-in for Raïssa in these exceptional times !
Despite the impossibility of taking her oath in person before the 1st chamber of the Paris Court of Appeal, the firm was keen to officially welcome its new junior associate Raïssa Fioklou into the profession.

December 17, 2020
For those who were not able to follow the webinar live on November 27, co-hosted by our partner Tiphaine HUE and Céline CHICOT partner at GMBA, find the key moments below in a 3-minute video!
Fin the full video on Webikeo.

November 27, 2020: WEBINAR 
Bolze Associés led a reflection on the impact of the health crisis on external growth.
Our partner, Tiphaine HUE, offered to address the subject of securing mergers/acquisitions operations in the context of Covid-19 during a first webinar on November 27 at 2:00 p.m., co-animated with the consulting and accountancy firm GMBA which intervenes more particularly on issues of mergers/acquisitions of TPE-PME (deals from 1 to 15M €), all sectors, with a specialization in the cultural sector as well as in the sector innovation/research. 

November 5, 2020
As we go into our second lock-down in France, Bolze Associés continues to satisfy our client's needs, albeit at a distance.
Thanks to the use of the latest tecnology (electronic signatures, visio conferences…), all the members of our team are fully equiped to carry on business as usual and are at your disposal to assist you in any way.
We hope to see you soon in our new Parisian offices on Avenue Victor Hugo.
Until then, stay safe.

May 11, 2020
Bolze Associés reopens today even if the activity has never stopped thanks to the mobilization of our team and our IT tools.
Here we are again gathered, staffed and respecting barrier gestures!
As the health and safety of our clients and team is at the heart of our concerns, we have adapted our office to comply with the recommended hygiene and social distancing measures.
Our team will alternate working from home and being present at the office.
Hydroalkolic gel and masks are available for our team and for our visitors.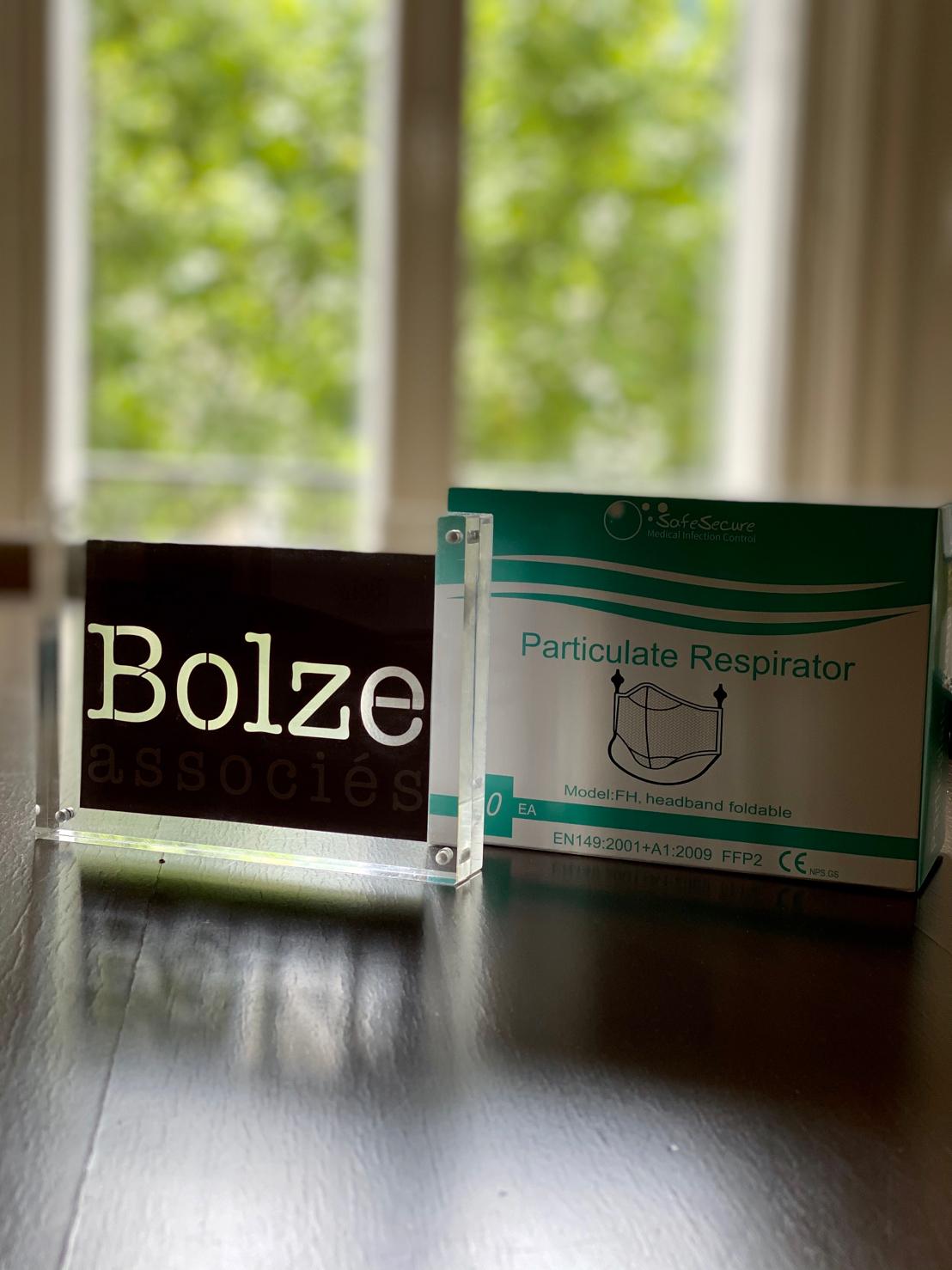 November 2019
We are pleased to announce that Tiphaine Hue has been named a new partner of Bolze Associés.

November 13, 2019
Great news ! Florent was admitted to the Bar accompanied by members of the team on his important day.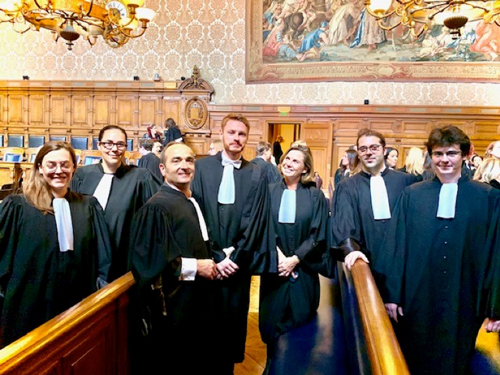 September 2019
Two new Associates at Bolze Associés : Florent Prisque and Alexandre Carteret.